Millions of dollars have been reported scammed from many different people by frauds who take advantage of some people's ignorance on what to do or expect when it's time to pay their taxes. Knowing tariff in American history might help you to avoid being tricked. The following list about "what IRS won't do" can also be of some use to prevent you from being cheated by scammers.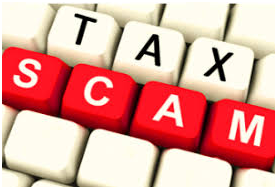 IRS would never call you to ask for immediate payment.
One of the operations that frauds do is call people and demands them to send cash to settle some tax owed. There were a lot of instances when the victims are asked to wire some money or even buy some cash cards and were demanded to give the details of the cash cards or debit cards during the call. IRS would sometimes give calls regarding your tax credit. However, they won't be demanding you to pay it immediately. You would be given time and a mail would be sent before a call is made.
IRS would never stop you from asking questions about what you owe.
Even if you are aware on some of your tax debts, you should still go ahead and ask or make an appeal on the amount the caller has told you. There is an appeal process provided by the IRS on their website. Do not hesitate to ask important questions, even if the person on the other line may seem to be annoyed to you for throwing lots of queries. You have the right to know details about the tax you are paying for.
IRS would never ask credit or debit card information over the phone.
This is true not only in taxes, but in many scam operations people are asked to give some confidential information like credit card numbers and also asked to use some specific method to send money. Con artists are experts in persuading people to give them the details they need. Be cautious in giving out important and classified data over the phone, through email, and also using online messengers.
IRS would never contact you through email or text.
Although the IRS would, at times, send you some notifications through your email, it would not be the first method they would be using to inform you about your taxes and your debt. A written notice through your mail is the initial way they would be sending you your bill.
IRS would never ask you to download some software.
You might be receiving some updates on certain software that you have already downloaded, or even an email with a link to a malware disguised as a tax software. Although many tax experts would recommend the best tax software 2017, you still need to know about the credibility of the site before clicking anything. You can read about TurboTax 2016 personal and professional versions, or other tax software here. If you receive a suspicious call, phone IRS back and inquire about the legitimacy of the call. They would have records of calls made to taxpayers.